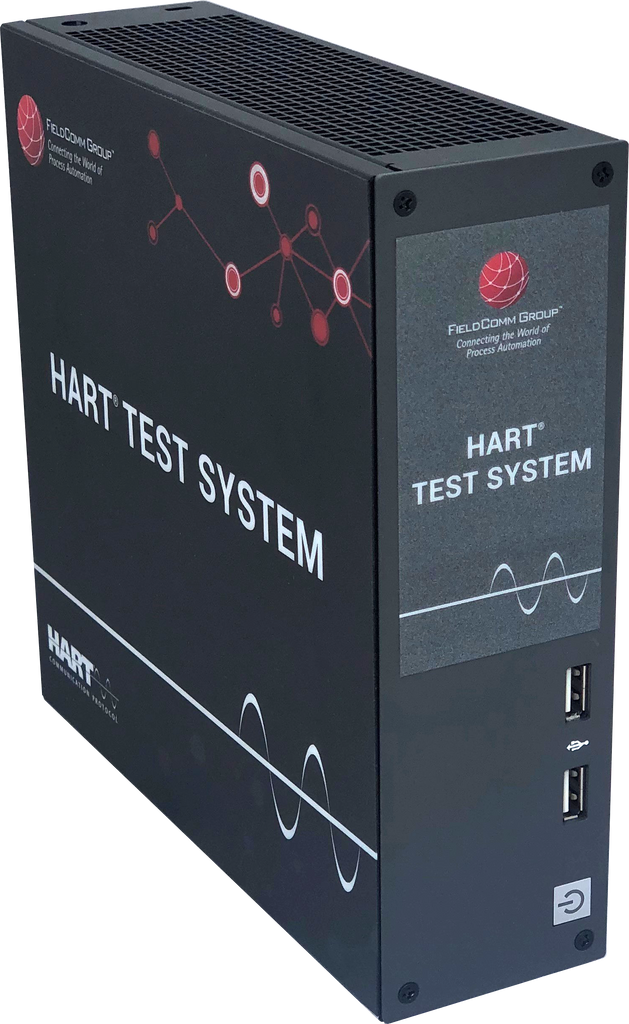 ---
The HART® Test System is an all-in-one HART appliance used for the development and testing of HART 4-20mA Field Devices. Developers should begin using the HART Test System as soon as communications with the field device are functional.
It is a complete development tool produced on the Linux operating system that includes the build software, test automation, application layer, and analysis software for the implementation and verification of a device's conformance to the HART Communication standard. The system automates device testing and verifies compliance to all revisions of the HART Protocol standard. It allows the user to run their product against the same test cases run in our conformance test lab ensuring device interoperability of both wired and wireless HART-enabled devices. The system acts as the core component for all HART and WirelessHART device testing.
Features
Standardized Linux based test appliance with all test software pre-installed
Compatible with HART-Registered RS232 modems
Compatible with HART-IP, the internetworking HART protocol
HART Menu system simplifies operation for automated testing
Components
Test Applications
HSniffer - HART 4-20mA bus analyzer 
HTEST HART Master Simulator
Conv Tool - companion to HSniffer to review byte-by-byte traffic on the HART bus in simple text display
HART-IP Server
Portable HART-IP v2 Client and HART-IP Test Cases
General Hardware Requirements
2 HART-Registered RS232 modems (not included in the kit, available as Add-On)
Loop power for testing
Part Warranty
1 year parts warranty against manufacturer defect
Product Updates & Support
One year of updates and support through our Product Support Program (PSP), is required as part of your license agreement and will be added to the total purchase price.  
For additional details and support information on this product, please visit https://support.fieldcommgroup.org/solution/folders/8000074515.
Shipping

Shipping via UPS is not included. Any customs fees assessed by receiver's countries and locales are the responsibility of the ordering company and will not be paid by FieldComm Group. 
If you do not want UPS shipping to be included at checkout please select the "Self-Ship" option. Please contact us at sales@fieldcommgroup.org with your order number and shipping account information.
---
Share this Product
---
More from this collection