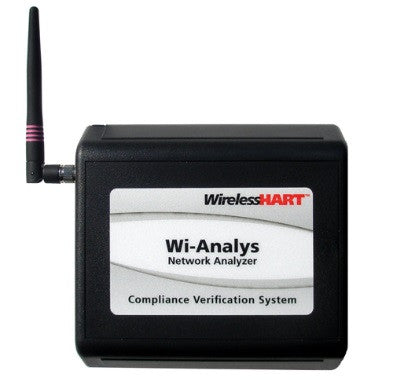 ---
Wi-Analys is a specialized receiver to test and analyze WirelessHART® radio transmissions. The Wi-Analys Compliance Verification Receiver is a significant technology advancement—a tool critical to the development and compliance testing of WirelessHART devices. The new Wi-Analys receiver allows companies designing WirelessHART devices to fully test and analyze their WirelessHART radio transmissions. The HART Wi-Analys Compliance Verification Receiver is designed to capture all 802.15.4 transmissions operating in the 2.4 GHz frequency range. The Wi-Analys software filters the message traffic received from WirelessHART devices. The receiver has the capability of capturing data on 15 WirelessHART channels simultaneously and at a speed of up to 1000 messages per second.
Features
Designed specifically for testing WirelessHART Technology
Automated applications provide good and bad stimulus to verify robustness of device under test
Components
Wi-Analys software
Wi-Analys Network Analyzer
USB 2.0 A/B cable
System Requirements
Windows 7 version or higher, 32-bit or 64-bit
.NET Framework 4.6.1
USB 2.0 Port
Part Warranty
1 year parts warranty against manufacturer defect
Product Updates & Support
One year of updates and support through our Product Support Program (PSP), is required as part of your license agreement and will be added to the total purchase price. 
For additional details and support information on this product, please visit https://support.fieldcommgroup.org/solution/folders/8000074516.
Shipping

Shipping via UPS is not included. Any customs fees assessed by receiver's countries and locales are the responsibility of the ordering company and will not be paid by FieldComm Group. 
If you do not want UPS shipping to be included at checkout please select the "Self-Ship" option. Please contact us at sales@fieldcommgroup.org with your order number and shipping account information.
---
Share this Product
---
More from this collection