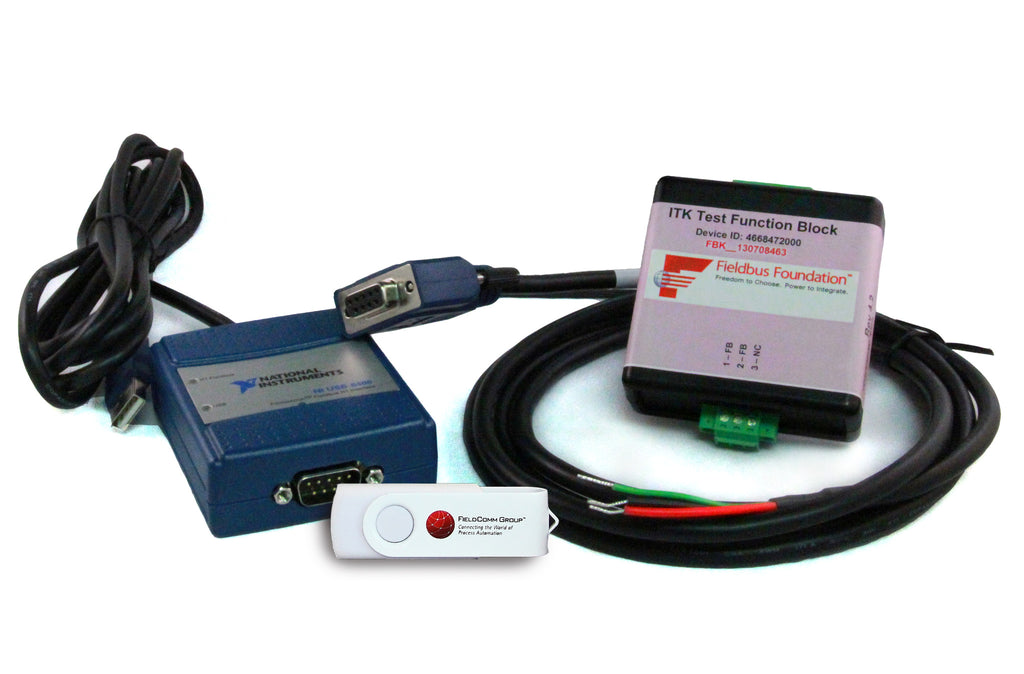 FOUNDATION Fieldbus H1 Interoperability Test Kit
---
The H1 Interoperability Test Kit (H1 ITK) tests the functionality of an H1 field device and its conformity to the FOUNDATION Fieldbus function block and transducer block specifications. An excellent tool for developers to troubleshoot and debug devices, the test kit includes all hardware and software required to ensure a manufacturer's design is complete and interoperable as specified by FieldComm Group's official registration testing procedures.

Features
Support for Standardized Connection Points
Supports Backward Compatibility
Supports Device Templates
Supports Field Diagnostic Capabilities
Supports Control in the Field Capabilities
Tests H1 device for its interoperability and its conformity to FOUNDATION function block specifications
Automation prompts available to reduce human intervention with the test device – requires ITK Automation Toolkit
Pre-testing a device to minimize testing costs
Components
H1 ITK Software
USB Interface Card w/ DB9 to Fieldbus Cable
Test Function Block
(Optional) – The H1 ITK can be ordered with a PCI-FBUS Interface instead of the standard USB Interface. Call for pricing. (ITK 6.0 or above required)
System Requirements
One machine for Test System (Windows 10 32 or 64-bit and available USB slot)
Additional Components
The following items are needed to successfully test your H1 device.
Fieldbus Segment
(power supply and conditioner, terminators)
One DB9 to Fieldbus cables
(PCI-FBUS Interface Only)
Product Updates & Support
One year of updates and support through our Product Support Program (PSP), is required as part of your license agreement and will be added to the total purchase price. 
For additional details and support information on this product, please visit https://support.fieldcommgroup.org/solution/folders/8000073271.
Shipping

Shipping via UPS is not included. Any customs fees assessed by receiver's countries and locales are the responsibility of the ordering company and will not be paid by FieldComm Group. 
If you do not want UPS shipping to be included at checkout please select the "Self-Ship" option. Please contact us at sales@fieldcommgroup.org with your order number and shipping account information.
---
Share this Product
---
More from this collection