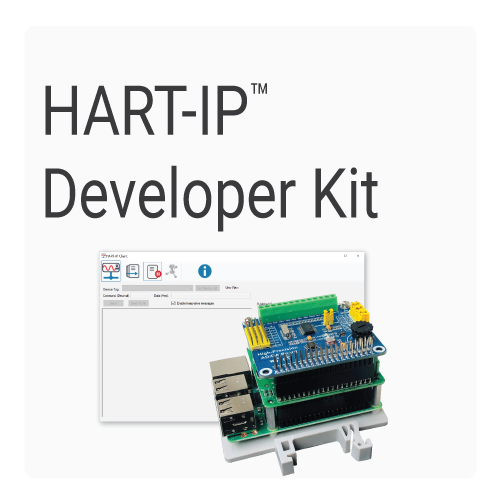 ---
Field Devices have long been supported by HART-IP™ but are just now gaining interest in the HART community and industry. This kit provides a working HART-IP based flow device. The Starter Kit consists of two software modules running on a Raspberry Pi hardware platform. The HART-IP Developer Kit is a great choice for anyone looking to start implementing HART-IP technology as a step towards digital transformation. 
Additionally, our HART-IP Developer Kit features the Portable HART-IP v2.0 Client, complete with its source code. This allows users to quickly kickstart their application development efforts within the HART-IP industrial space.

To cater to individual preferences and requirements, we offer the option to order the kit either with or without the Raspberry Pi hardware.
Features
HART-IP Developer Kit provides a working demonstration of a HART-IP field device with pre-built EDD and FDI Device Package. 

Sample code provides a HART-IP Server interface and Flow Application that runs on a Raspberry Pi 3B+ board. Hardware is shipped with the image ready to run!
Portable HART-IP v2.0 Client: Windows 10 installer for immediate use; source code
Sample FDI Device Package project and EDD source to use as a basis for development.
Components
Pre-Configured micro SD card containing the HART-IP Server and Flow Device Application running on UbuntuMATE (64-bit).

Complete set of hardware including Raspberry Pi 3B+, DSLRKIT Power Over Ethernet PoE HAT, Waveshare Raspberry Pi High-Precision AD/DA together mounted on a DINrPlate DIN Rail Mount.
HART-IP FlowDevice EDD Source Code and corresponding FDI Device Package.
Documentation.
Portable HART-IP v2.0 Client: Windows 10 installer for immediate use; source code.
Four (4) hours Technical Support to help you get started.

System Requirements
Microsoft Visual Studio 2015 or 2017
Apache 2.0 License
Related Products
It is highly recommended that you have the following products:
Product Support
For additional details and support information on this product, please visit http://go.fieldcommgroup.org/art-hipdevkit 

Shipping

Shipping via UPS is not included. Any customs fees assessed by receiver's countries and locales are the responsibility of the ordering company and will not be paid by FieldComm Group.
If you do not want UPS shipping to be included at checkout please select the "Self-Ship" option. Please contact us at sales@fieldcommgroup.org with your order number and shipping account information.
---
Share this Product
---
More from this collection